Now that I am blogging with the rest of the DIY world I get to participate in awesome challenges like this! so here's the scoop...the idea is to hold everyone accountable to all the things we pin on Pinterest and actually get something done off it, how about that? The only rule is that you have to credit your project back to the original post of that idea with a link. Other than that it can be anything from food, clothes (I'm talking to you
Lora
!?), DIY, etc. The world is your
oyster
challenge!!
This event is hosted by a few ladies that run some really great blogs and motivated me to start one myself.
Please meet the co hosts of this shindig:
So, what am I going to do?? Well I drove all over kingdom come last weekend looking for a "big boy bed" for Corin. Cribs are so three years ago, right? Here's what I was thinking...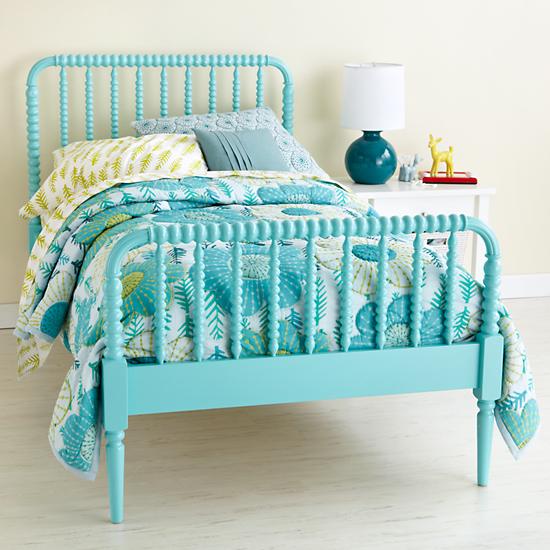 This is a Jenny Lind bed from
Land of Nod
...and it is a whopping $649, and like way WAY outside my budget. So I found this gem at a new store in Franklin called
Vintage Whimsy
. It may be my new favorite place with it's cheap antiques, jewelry, and trinkets...
sorry for the blur...stupid bright sun
They were a little pricey at $175, but you got two beds (sell the other and get some $$ back?) and they were this great chalk paint green. However, I walked away for a couple hours to see what else I might find at the other local shops and when I went back they were gone!! GONE!! Ugh, I died a little at my stupidity at not grabbing them and stuffing them in the trunk. Oh well, I wasn't meant to have them because I was meant to find this!! He was literally a block away from my house and waiting patiently for me to walk through the door and fall in love...
this picture is equally as awful...my iphone was obviously not in the mood



I got this brown beauty for $90 with wooden bed rails, everyone else including the green came with metal. So he is all mine Corins, and also my Pinterest Challenge!! He needs a little jazzing up and the completion date is set for February 27th, I better get on that...